Welcome Intro l Week 1 l Week 2 l Week 3 l Week 4 l Week 5 l Week 6 l Week 7 l l l Printer friendly version l Leaders DVDs are at Knox
Welcome to our Fall Spiritual Study - "Living Unafraid"
Isaiah 41:10 is the scriptural theme of our Fall Spiritual Emphasis. The phrase from the verse, "I will strengthen you and help you. I will hold you up..." has many times been a verse of hope for me. I liken it to the words Jesus gave to his disciples, in Matthew 14:27, after calming the storm, "Don't be afraid" he said. "Take courage. I am here."
Cultivating the presence of Christ in our lives is a continual effort. Our fears and despair push him away. As a friend of mine recently reported, "I'm praying constantly, asking for my daily bread...not feeling Jesus but I know he's there." Some days and some circumstances lead us to cling to his promises like an invisible, but tangible life ring; he's holding us up, strengthening our resolve, granting needed courage, until we see him more clearly and find our footing once again.
It is God's intention for us to live in joy.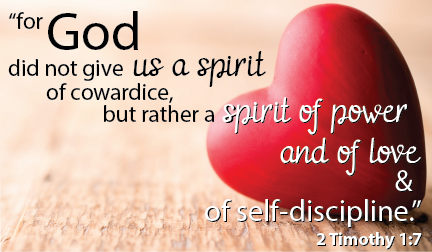 Jesus spent his life cultivating life without fear for others. Francesca Battistelli is a contemporary Christian artist who wrote a song entitled, "The Break Up Song". It's about breaking up with fear. She declares that "this song is her anthem ...fear is a universal struggle ...that holds us back from truly living..." Francesca lists a number of bible verses that contributed to the song, but certainly Philippians 4 and 2 Timothy speak volumes!
Week 1 - Living Unafraid the Intro - Knox Fest Sunday
Scriptures: Isaiah 41: 4, 8-10; Luke 5: 1-11
Our guest preacher Dr Chanon Ross shared some helpful examples of fears he encountered in his ministry. He reminded us of Jesus and disciples who became "fishers of people"-against their wildest expectations.

After a long night of fishing and not catching anything, not one fish, Jesus asks the young men to go out once again into the waters and cast their nets on the other side of the boat. In doing this, they catch so many fish that their boats are sinking. They don't know what to make of this man Jesus but they are now afraid.
Jesus calls to them to follow him. And they do, in spite of their fears and a letting go of known certainties. Chanon invited us to overcome any incredulity that God calls each of to leave our uncertainty and "go fishing" with Jesus.
Listen to Chanon tell us about many of the people God has called. Think about your own response. Is it - "Come on God, It's not me you're looking for. Or is it "Yes- let's go fishing indeed!"
Week 2 - The Anatomy of Fear
Scriptures: Numbers 13:32-33; Philippians 4:5-7
Study Section - Part One - Understanding and Countering Fear

Week 3 - We Need a Security System
Scriptures: Genesis 4:8-9; Psalm 56:34; John 8:32
Study Section - Part Two - Crime, Race, Terrorism and Politics

Week 4 - Breaking Up With Fear
Scriptures: Proverbs 25:21-22; Luke 9:24-25, Ephesians 2:4-5
Study Section - Part Three - Failure, Disappointing Others, Insignificance and Loneliness

Week 5 - FOMO
Scriptures: Ecclesiastes 2:selected; Matthew 6:19-21; Revelation 21:1-4
Study Section - Part Four - Apocalypse, Change, Missing Out and Finances

Week 6 - A World of Anxiety and Illness
Scriptures: Psalm 139: selected; John 14: selected; 2 Corinthians 4: selected
Study Section - Part Five - Aging, Illness, Dying and Fear of the Lord

Week 7 - Living Unafraid - It's a Wrap
Scriptures: Proverbs 14:27
"Living Unafraid - "It's a Wrap!"