Faithfully Fit - Spring/ Summer 2018
In January of this year, Knox began an emphasis entitled, "Faithfully Fit". To be faithfully fit means so much more than physically fit and disciplined. It includes the crucial element of spiritual growth. Since January great success stories and tips have been shared.
Our "Faithfully Fit Summer 2018" is in full swing! Thanks to Esther Moreno for kicking us off and Bill Smith's insight as he trains for a triathlon. Our newest update is from Sherry Harter. Check back for more updates and suggestions for abundant and faithfully fit life in Christ! Let us know if you have a story to share!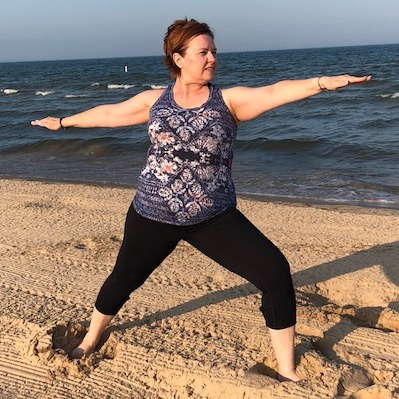 Sherry Harter brought her love of Yoga and Tai Chi to Knox, offering weekly classes in each. Her patient approach, graceful style and clear instruction helped others discover the benefits of these eastern disciplines. Below she shares why yoga has an important place in her life.
Why I Practice Yoga / by Sherry Harter

Eric Shiffmann writes: Yoga is a way of moving into stillness in order to experience the truth of who you are.
It's a matter of listening inwardly for guidance all the time, and then daring enough and trusting enough to do as you are prompted to do…"
I began practicing Yoga over the last few years when life circumstances overwhelmed me. Even though I exercised and taught many other formats, I still needed something that brought about a more lasting feeling of peace and inner strength.
The answer was Yoga. In Yoga we begin each practice with a time to center and still the body in order to still the mind. Then we move through Asanas (or poses) to strengthen the body. I love Yoga because it is an accessible practice for any level and can be adapted for so many specific purposes- for the chair, cancer, caregivers, children and PTSD just to name just a few.
In my 200 Hour Teaching Training with Rolf Gates, I learned that 'the pose is a process'. We can learn to sustain poses and work through discomfort by what he calls "finding the middle". For example, first over exert yourself in a pose, then have little to no effort. Finally, find that middle ground where you can sustain the pose. Similar to life, if we over extend ourselves, we cannot serve for long periods of time. If we completely withdraw, we feel like we are not doing much of anything. But if we 'find our middle', we can be balanced and sustain something longer.
My favorite pose in Yoga is Warrior II. A lesson we had about this pose illustrates best what 'finding your middle'is in practice and life. In Warrior II we learn to face the world with an open heart. It is important, however, to avoid swaying the back and give too much. You need to be supported in the pose with a well aligned back line otherwise you eventually exhaust yourself and potentially cause injury. As in life, if we overextend ourselves to the world, but do not do what is important to sustain ourselves, we burn out.
The other component of Yoga Practice is Meditation. This is very challenging for me as my brain wants to constantly move- we called it 'monkey brain' in class. But as I get better, I feel calm and am often able to listen for what God may be telling me to do.
The Bible says "Be still, and know that I am God….." Psalm 46:10 Yoga and Meditation remind me to do this and live my faith daily.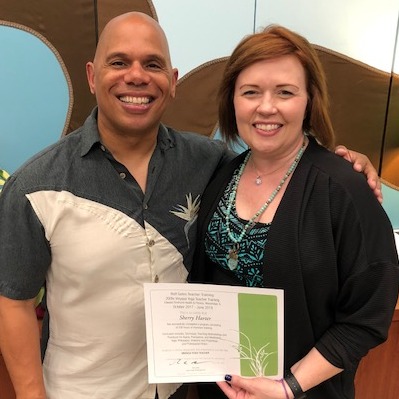 Fitness tips from a Knox triathlete Bill Smith.
One of the joys of having Esther Moreno on staff was her
enthusiasm for fitness. We welcome Esther to share her Faithfully fit suggestions. Thank you for taking time to share with us Esther before you and your family head south.
Taking care of your body isn't just about looking good on the outside. It's about taking care of the temple that God has given you so that you are equipped to do his work in the earth. As the weather is warming up, let's commit to getting stronger to serve him longer. Here are 5 easy tips to stay faithfully fit this upcoming season.
Don't make exercise a half hearted endeavor. Make goals and stay committed.
Pray to God for help with your fitness goals. I'm sure he'll be happy to oblige your request. Dedicate your workouts to Christ and watch it make a difference.
Don't over do it! You can get a good workout in without spending hours in the gym. Take a brisk walk, swim, or join a fun dance class. All of these are creative ways to stay faithfully fit.
Discipline is key in both your spiritual life and with your fitness goals. Keeping a journal is a great way to chart your progress and celebrate your success.
Don't beat yourself up if you fall short of your goals. It happens to the best of us. Get back up if you fall down and keep pressing towards the mark. You got this!
"Do you not know that your body is a temple of the Holy Spirit within you, whom you have from God, and that you are not your own? For you have been purchased at a price. Therefore, glorify God in your body." -1 Corinthians 6:19-20