CHRISTMAS JOY OFFERING:
God Is With Us
A personal appeal from Pastor Dave Handley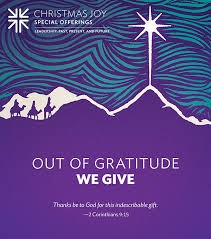 The opening of Matthew's Gospel is like fireworks in a dark sky: "Do not be afraid,….God is with us." (Matthew 1:20, 24). The Christmas Joy Offering is one tangible way we can give that message to two groups of people who are most vulnerable: minority college hopefuls, and retired church workers facing critical financial needs.
There are only two special Presbyterian Church USA offerings Knox Church supports each year: Christmas Joy during Advent, and One Great Hour of Sharing during Lent. The Joy Offering is being received all of December through Christmas Eve. In this season of Giving, and sometimes over-indulgent festivities, some find it a good discipline to set aside a daily sacrificial offering as a reminder of Who it is we are honoring. Others write a single check and send it directly to the church office. Still others make this a yearly part of their Christmas Eve celebration at worship December 24.
Consistent with the prophetic voice of our denomination, this special offering goes to those we do not normally think about at this time. 50% of the recipients are students of color who cannot afford the cost of higher education, but have great potential for careers, service, and witness. These promising young people experience "God with them" as opportunity opening up to enter quality higher education at Presbyterian-related schools. All this through the generosity of others in the Church who contribute to the Joy Offering. The other 50 % acknowledges the sacrificial service church workers have given in places that did not have great resources for salaries, health care or retirement plans. Those facing critical financial needs, then, experience "God with them" through the help offered by the Joy Offering at Christmas time.
May the generosity of Knox Church, through these special offerings for often forgotten friends, overflow this month through our support!