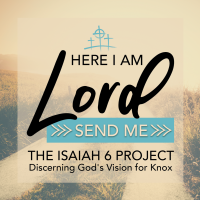 God is always on the move. Our God is always moving, always reaching out, always seeking to reach and restore God's people and God's creation into right relationship with Himself and with one another.
Here at Knox, we want to move with God. We want to respond in faith and obedience whenever/however God calls. We know that the God who has been faithful to lead us in the past will be powerful to lead us into the future. So when we hear God ask the question, "Whom shall I send?" we want our answer to be, "Here I am. Send me!"
In order to discern and move into the future God has for us, your pastors and Session have invited the consulting firm, Joyner Advising Group, to lead us through a visioning process over the next year. We are confident that, through the work we do together, we will hear God's voice calling and we will follow with enthusiasm, knowing that God has given us a renewed sense of God's mission for Knox in our community and in the world.
Here's what's happening and how you can be a part of discerning God's future for Knox with us...
Demographic Study - January 13-20: A comprehensive study of who lives in and what's happening in the 10-mile radius around the church
Transforming Church Inventory - January 22-February 13: An all-church online survey to be taken by all members of the Knox family
Core Clarity Workshop - March 10: A day of leadership development and alignment for our staff members
Focus Groups - March 10-11: A time for select representatives of the Knox family to share their experiences and perspectives of the church. (Groups will be determined by pastors and staff, with input from Session, to represent the various constituencies within the whole of Knox, such as "Parents of Young Children," "Long Time Members," "New Members," and so on. Participation in the focus groups will be by invitation.)
Leadership Vision Retreats - April 22, May 19-20, August 25-26: Taking all the data from the demographic study, survey and focus groups, the Session and Staff will gather for these three retreats, discerning together Knox's mission, vision and values for the years to come
Please join us in praying for The Isaiah 6 Project. We are excited to hear God speak to us and we are hopeful for where God wants to lead us.
May all our hearts and voices join together when we hear God call out, "Whom shall I send?" "Here I am. Send me!"
SURVEY INSTRUCTIONS
Introduction
Thank you for participating in this valuable tool for our church. The tabulated results of this survey will help our church in its strategic planning process by identifying our church's strengths, as well as opportunities for improvement. This survey is being conducted by Leighton Ford Ministries, a Christian non-profit that specializes in ministry leadership. Each member of a household (16 years and older) should respond.
Taking the Survey
Do not labor over your decision – your first instinct is usually right. The survey will take you about 20-30 minutes to complete. You will need to complete the survey in one sitting. Your responses will be completely confidential. If you are ready to begin, then follow these basic steps:
Log on to the website: Ctrl+Click on URL below or copy and paste into your browser. https://www.surveymonkey.com/r/LFM_TCI_KnoxPresbyterianFL
Enter your church's Password: kpnfl
This password is the same for everyone in your church. Once the survey period has been completed, the survey will be closed and you will not be able to log on.
Answer each question according to the instructions. When you have finished each set of questions, click "Next" at the bottom of the page. You may use the "Previous" and "Next" buttons to navigate pages and change your answers at any point while you are logged on. When you click "Done" on the last page, your answers will be saved and you cannot change them.
Each member of a family, age 16 and older, should participate individually.
Frequently Asked Questions
1. I can't get to the website. : If you have trouble with this, make sure that you have pasted the full URL into your browser.
2. I can't log on. : Make sure that you have selected the appropriate link to your church and typed the password exactly as it appears.
3. I can't get past page one – it keeps taking me back to the beginning. : This is a problem with the way that your computer's security features / network firewalls are configured. LFM cannot help you with this. The problem is with your computer or network, not with the survey.
4. What should I do if I don't know the answer to a question? : Just leave that question blank. It will not skew the results. The composite score for each question is calculated by the number of participants who answer any given question, not by how many participants take the survey.
If you need to schedule a time at the church to take the survey please call Stephanie at 630-615-4308.