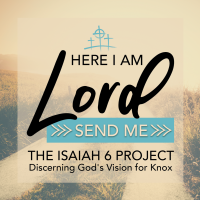 Congregational Report
God is always on the move. Our God is always moving, always reaching out, always seeking to reach and restore God's people and God's creation into right relationship with Himself and with one another.
Here at Knox, we want to move with God. We want to respond in faith and obedience whenever/however God calls. We know that the God who has been faithful to lead us in the past will be powerful to lead us into the future. So when we hear God ask the question, "Whom shall I send?" we want our answer to be, "Here I am. Send me!"
In order to discern and move into the future God has for us, your pastors and Session have invited the consulting firm, Joyner Advising Group, to lead us through a visioning process over the next year. We are confident that, through the work we do together, we will hear God's voice calling and we will follow with enthusiasm, knowing that God has given us a renewed sense of God's mission for Knox in our community and in the world.
Here's what's happening and how you can be a part of discerning God's future for Knox with us...
Demographic Study - January 13-20: A comprehensive study of who lives in and what's happening in the 10-mile radius around the church
Transforming Church Inventory - January 22-February 13: An all-church online survey to be taken by all members of the Knox family
Core Clarity Workshop - March 10: A day of leadership development and alignment for our staff members
Focus Groups - March 10-11: A time for select representatives of the Knox family to share their experiences and perspectives of the church. (Groups will be determined by pastors and staff, with input from Session, to represent the various constituencies within the whole of Knox, such as "Parents of Young Children," "Long Time Members," "New Members," and so on. Participation in the focus groups will be by invitation.)
Leadership Vision Retreats - April 22, May 19-20, August 25-26: Taking all the data from the demographic study, survey and focus groups, the Session and Staff will gather for these three retreats, discerning together Knox's mission, vision and values for the years to come
Please join us in praying for The Isaiah 6 Project. We are excited to hear God speak to us and we are hopeful for where God wants to lead us.
May all our hearts and voices join together when we hear God call out, "Whom shall I send?" "Here I am. Send me!"