Long Story Short Bible Study with Rev. Dr. David Bruner
March 22, 2023 6:00pm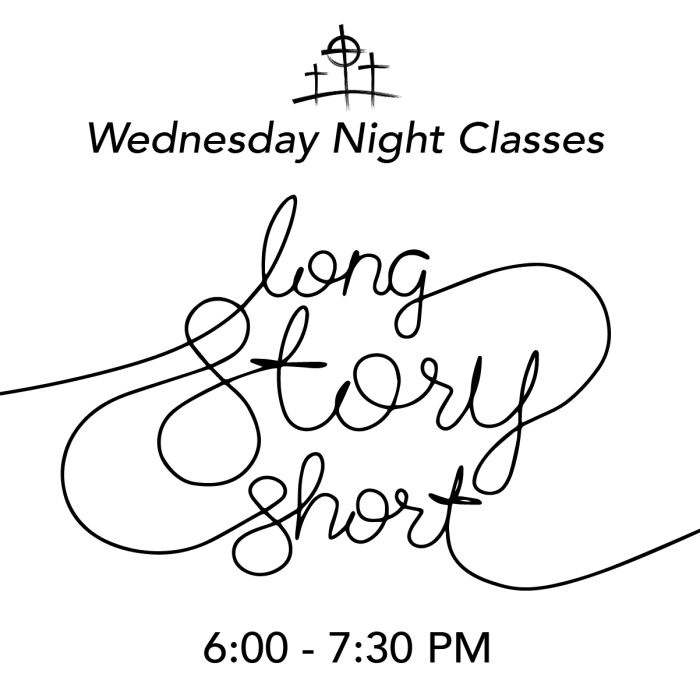 Contact: David Bruner
Participate in the Wednesday night Long Story Short class from 6-7:30 pm in the Sanctuary that's being taught by Pastor Dave. He'll take what was preached on in the previous Sunday's sermon and go deeper into the history and theology of that topic. Come ready to learn even more about what the Bible is, where it comes from, and how it can be God's Word to us today.
If you can't make it to church on a given Sunday or to class on Wednesdays, we want to remind you that you can keep up with the sermons and the Long Story Short class audio on our Knox Church Podcast. Listen and subscribe on your Android or Apple devices or on Spotify.
If you are interested in joining a small group email Rev. Dr. David Bruner.
Small Group Questions will available on Mondays
Week 0 | Week 1 | Week 2 | Week 3 | Week 4 | Week 5 | Week 6 | Week 7 | Week 8 | Week 9 & Pastor Dave's Notes
Long Story Short Calendar Guide
Long Story Short

Read


the four readings in your personal Devotional Guide



Listen


to the Sunday Sermon
(also available via podcast)

Learn


by attending the Wednesday Class (also available via podcast)

Discuss


what you've read in the Bible and heard in the sermons with your Small Group

Week 0: How to Read the Bible
None
Sunday, 1/15
Wednesday, 1/18
Week following 1/15
Week 1: Creation
Week following 1/15
Sunday, 1/22
Wednesday, 1/25
Week following 1/22
Week 2: Fall
Week following 1/22
Sunday, 1/29
Wednesday, 2/1
Week following 1/29
Week 3: Promise
Week following 1/29
Sunday, 2/5
Wednesday, 2/8
Week following 2/5
Week 4: Exodus
Week following 2/5
Sunday, 2/12
Wednesday, 2/15
Week following 2/12
Week 5: Covenant
Week following 2/12
Sunday, 2/19
Wednesday, 2/22
Week following 2/19
Week 6: Waiting
Week following 2/19
Sunday, 2/26
Wednesday, 3/1
Week following 2/26
Week 7: Conquest
Week following 2/26
Sunday, 3/5
Wednesday, 3/8
Week following 3/5
Week 8: Kingdom
Week following 3/5
Sunday, 3/12
Wednesday, 3/15
Week following 3/12
Week 9: Warning
Week following 3/12
Sunday, 3/19
Wednesday, 3/22
Week following 3/19
Week 10: Comeback
Week following 3/19
Sunday, 3/26
Wednesday, 3/29
Week following 3/26
Week 11: Incarnation
Week following 3/26
Sunday, 4/2
Wednesday, 4/5
Week following 4/2
Week 12: Resurrection
Week following 4/2
Sunday, 4/9
Wednesday, 4/12
Week following 4/9
Week 13: Mission
Week following 4/9
Sunday, 4/16
Wednesday, 4/19
Week following 4/16
Week 14: Church
Week following 4/16
Sunday, 4/23
Wednesday, 4/26
Week following 4/23
Week 15: Revelation
Week following 4/23
Sunday, 4/30
Wednesday, 5/3
Week following 4/30