Daybreakers Bible Study
June 2, 2022 6:00am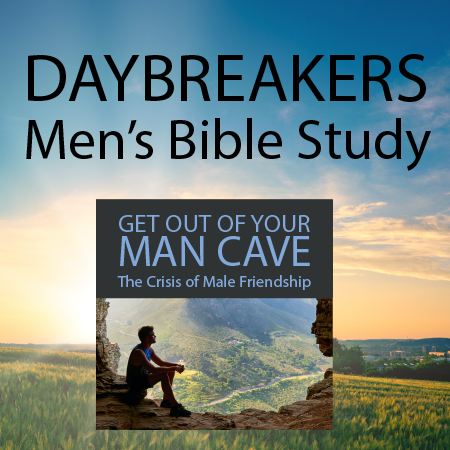 Contact: Jeff Hartman
Men's Daybreakers Bible Study
Book Study: "Get Out of Your Man Cave"
Dates: April 21 through June 2 - Thursday Mornings at 6:00 AM
"Men are in crisis and need better friendships" Rich Gorecki
Though technology purports to help us stay connected, many men use it to isolate themselves. They struggle with how to balance the responsibilities of work and home life. They're bombarded with messages about what a man should be and how he should act. Political riots, random shootings, and accusations of "toxic masculinity" are tainting the viewpoints about men.
Rich Gorecki believes guys need deeper, more authentic friendships to help them become better men. His own experience with work-life "un-balance" proved it and he continues to see it in men today. He helps us understand the various live-stages of friendships and how the stresses of adulthood change men and their relationships. Rich makes the case for what he calls "GodBuddies" and provides sound principles and practical steps to develop and maintain deeper, more authentic friendships.
Join us on Thursday mornings at Knox as we examine Rich's book and explore ways to become the best we can be, while fostering strong relationships with other Godly men.
Copies of Rich's book can be picked up from the Knox front office. This event will be held in person at Knox AND a zoom login will be provided for those joining virtually.
If you currently do NOT receive the daybreakers weekly email and want to participate in this study, please sign up below.