Naperville Area Crop Hunger Walk
October 16, 2022 1:00pm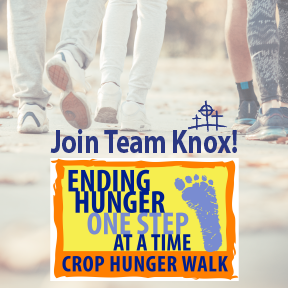 CROP WALK 40th anniversary
1982-2022 NAPERVILLE AREA CROP HUNGER WALK
In the spring of 1982, the first Naperville Area CROP Hunger Walk was organized and 40 years later, CROP Hunger Walkers in Naperville are still at it!! While it is not clear if Knox Presbyterian Church was part of the first Walk, participants of Knox did walk in the third edition of the Naperville Area CROP Hunger Walk. Maybe someone from our congregation was part of the 1984 walk. We would like to hear from you!!!
What is the CROP Hunger Walk? Over 500+ nationwide CROP Hunger Walks are organized each year with walkers of all beautiful ages and their sponsors raising awareness and funds to End Hunger One Step at a Time. 25% of the funds raised by local CROP Hunger walkers stays in our community with Loaves and Fishes and the Northern Illinois Food Bank as the beneficiaries. The remainder is used nationally and globally such as in cases of disasters and displacement, food/water/shelter programs, technical support on how to diversify crops and microloans.
The 40th Naperville Area CROP Hunger Walk will take place on Sunday, October 16, at 1 pm with start and finish at Grace UMC in Naperville.
Sign up and join the CROP Hunger Walk Team of Knox. www.crophungerwalk.org is the site to go to. Once on this website, type Knox Presbyterian Church in the upper right search bar. The next screen will give you the opportunity to join our team (see blue bar halfway through the screen). Donations can be made online as well by going to the same website mentioned above.
Knox Team Captains Ineke Pelella and Rachel Koritala