Naperville Area Crop Hunger Walk
October 15, 2023 1:00pm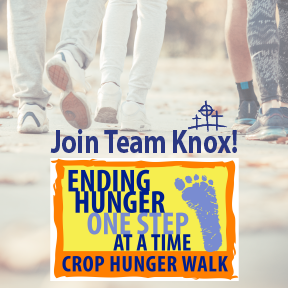 Sunday, October 15, 2023 @ 1 pm
Crop Hunger Walk is 1k or 5K walk to raise awareness and funds for people in need around the block and around the world. Local beneficiaries are Loaves and Fishes and the Northern Illinois Food Bank. CROP $$ are also used in 35 countries to create much better living circumstances. Examples of assistance are improved agricultural methods, better built homes, clean drinking water projects and access to schools. A number of local churches participate in this event.
The start and finish are at Grace United Methodist Church at 300 E. Gartner Rd in Naperville.
Sign up in person or online in September/October and there is no cost to participate.
Knox Team Captains Ineke Pelella and Rachel Koritala