Fill-A-Truck Sunday
May 15, 2022 8:30am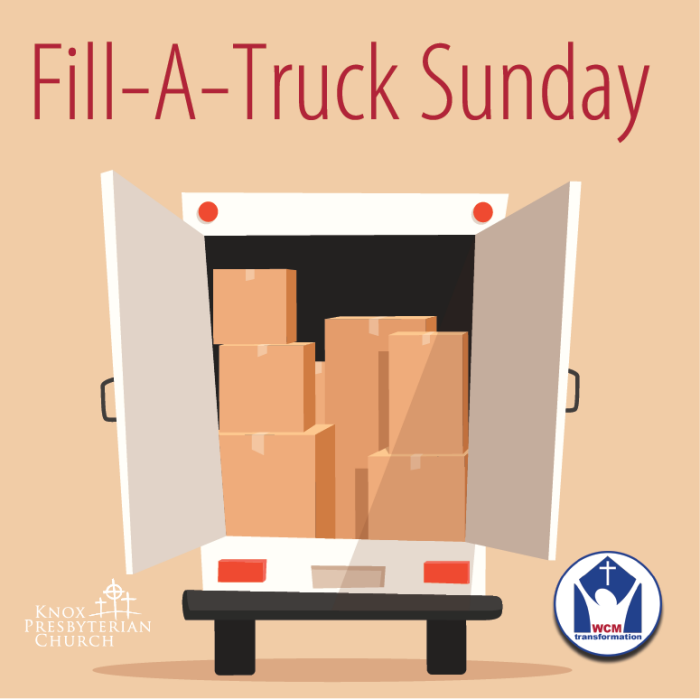 Our 14th annual Fill-A-Truck Sunday will be on Sunday, May 15th Knox will host the Wayside Cross Ministries truck from 8:30 - Noon. Our Knox family has been faithful servants to the residents of Wayside Cross and filled the truck every year for the past 14 years. In fact, last year may have been the best event ever as we filled 2+ trucks. Note that this event is a drive through event. Donations will also be accepted at Knox during the week of May 9. Please check in at the Church office so our custodian staff can stage these donations in Fellowship Hall.
Clean your closets, dresser drawers, and storage areas. Give the men and women of Wayside Cross your outgrown or gently used clothes along with baby accessories, small furniture items and small appliances that are clean and in working order. However, books should not be donated. Books will be tossed by WCM and is a cost for their removal. Even ripped or torn clothing is turned into $$$ by recycling to organizations that provide clothing to third world countries or by creating cleaning rags.
Begin organizing your donations now to help bring on the feelings of spring and summer to come.
Your donation will help serve hundreds of people with meals, clothing, and lodging. Your clothing will either be distributed through the Community Outreach Program or turned into $$$ for WCM in the Hope Chest Resale Store. The men and women of Wayside Cross thank you.
If you have something larger, arrangements can be made for pick-ups of furniture or appliances, by calling Wayside Cross Ministries at 630-892-4239 or filling out the form on the WCM website, www.waysidecross.org . If you have any questions about this event or Wayside Cross Ministries, call Gary McGregor at (630) 926-2603.