Benefit Night for Ukraine
June 10, 2022 6:45pm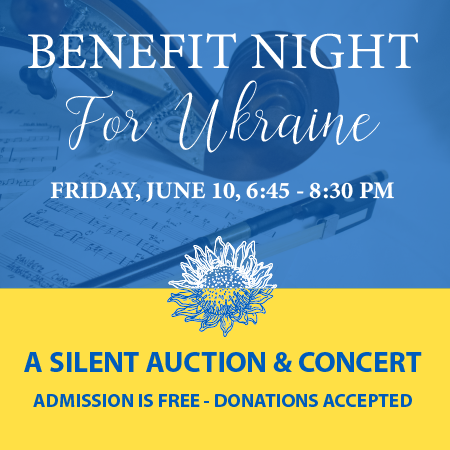 Contact: Anna Board
Benefit Night For Ukraine - A Silent Auction & Concert
On Friday, June 10, 2022 at 6:45 pm Knox Presbyterian Church of Naperville will host a concert and silent auction to benefit the relief efforts of Presbyterian Disaster Assistance (PDA) in their work with Ukrainian refugees.
The event begins with a silent auction featuring works by local artists, students and donated items by our members and businesses who wish to support our efforts in this fundraiser. Attendees will have the opportunity to enjoy musical performances by Anna Board (mezzo-soprano), Kelsea Webb (soprano), and a string ensemble comprised of musicians from the Knox congregation (Anne Renggli, Joe Liotine, Dawn Pakkebier, Marion Sarkar, and Brad Pfeil). The concert will feature works from a variety of composers and musical styles including G.F. Handel, G. Rossini, Rodgers and Hammerstein, and Lin-Manuel Miranda!
The concert is free and open to the public. Both the money raised in the silent auction and collected in a free will offering will support the work of Presbyterian Disaster Assistance directed to Ukraine, Refreshments will be served.
Click on the button below to view the program of the concert. The program is subject to change.